Did you know DEVCO Renault offer a while you wait tyre service? We can minimise the time your vehicle is off the road and the time you spend shopping around by offering expert tyre advice and highly competitive fully fitted price including tyre, balancing, valve, VAT and disposal of the old tyre.
Tyres play an important role in accident avoidance, and improving fuel economy. It's estimated that a third of cars and vans in the UK have underinflated tyres. If you have a concern about your tyres - perhaps you've recently hit a pot hole, struck a curb or road debris, resulting in vibrations from your steering, your car or van is pulling to one side or you just can't remember the last time you had your tyres and wheel alignment checked - don't worry call DEVCO Renault on 01884 254318 for a free tyre health check. We also carry our tyre puncture repairs where possible and can fit winter tyres too. It could just be your tyre pressure needs adjusting - DEVCO Renault offer a full range of budget, intermediate and premium brands.
We have new tyres available from £37.50 and we will always provide you with the information you need to choose the right tyre to match your driving needs.
to book your vehicle in for a free tyre pressure and tread check with trained Renault technicians or call 01884 254318 to speak to one of our Service Advisors. You can read more below and watch a short video to explain why checking your tyres at DEVCO Renault is so important, and for expert tyre advice across Devon.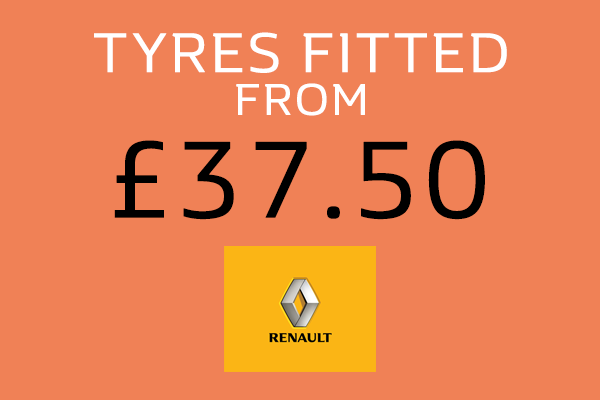 TYRES AND THE LAW
Most drivers become aware of their tyre health through the MOT, which compares tread depth on your tyres against the legal minimum tread of 1.6mm. The law states: The grooves of the tread pattern shall be of a depth of at least 1.6mm throughout a continuous band comprising the central 75% of the breadth of tread and round the entire outer circumference of the tyre.
A new tyre will have 8mm of tread depth, but the last 1.6mm is not usable as it is below the legal limit. So a new tyre has 6.4mm of usable tread. By the time tyre tread measures 3.0mm (1.6mm is unusable within the law) - that tyre is 78% worn, and is very close to the legal minimum tread.
The current penalty for illegal tyre tread depth is: a maximum fine of £2,500, with discretionary disqualification and a compulsory driving licence endorsement of 3 penalty points - per illegal tyre.
If you need a free tyre health check or professional advice on your vehicles' tyres then call DEVCO Renault on 01884 254318 or
to make an appointment for expert tyre advice.
WHY WE RECOMMEND CHANGING YOUR TYRES AT 3MM OR LESS
Most people would not discard the last 25% of anything, so why at 3mm or below would we recommend replacing your tyre when the legal limit is 1.6mm?
The answer is simple - while the last squirt of the tomato sauce from the bottle might be as good as the first - for tyres it's a very different story. A tyre with 3mm of tread performs considerably worse than a tyre with 8mm of tread, and performance degrades rapidly as tread depth decreases toward the legal limit. A tyre with 1.6mm could easily be travelling at 30mph when the 3mm tyre has stopped - which might be 100 foot after a car with a new tyre has stopped. Watch the below video to help decide when you want your tyres replacing:
BUDGET VS PREMIUM
There are various types of tyres so always consider the type of driving you do and what that means for the type of tyre you should fit to your car or van. If you mostly drive on motorways, consider a premium tyre for improved grip at higher speed braking. If you live in a rural area, consider a premium tyre for the best braking performance on wet or slippery roads. The below video is a useful tyre braking demonstration by Continental:
If you need a free tyre health chech or professional advice on your Renault car or van tyres then call DEVCO Renault on 01884 254318 or
to make an appointment for expert tyre advice across Devon.
Remember when you book a Service with DEVCO Renault we offer:
| | |
| --- | --- |
| 12 months guarantee; | Our work includes a 12 month parts and labour guarantee. |
| Software Upgrade Check; | Checked against Renault Systems for free upgrades. |
| Vehicle Health Check; | Peace of mind of the condition of your vehicle. |
| Car Washed and Cleaned; | Returning your car in its best possible condition. |
| Waiting Facilities; | Refreshments, Newspapers and WiFi. |
| Courtesy Vehicles; | Subject to Advance Booking, availability and Driving Licence. |
| Collect and Deliver; | Locally, from your home or work for ultimate convenience while your vehicle is with us. |
| Lift; | Can transport you locally to a destination of your choice. |