Cambelts at Devco M.V.S Ltd
Your vehicle's timing belt (also known as the cambelt) is a critical component that connects and controls the timing and operation of many of the engine's major internal parts such as the camshaft, crankshaft and valves.
The cambelt ensures that the camshaft and crankshaft rotate in time with each other; if they don't the result could be a massive engine failure.
You get a lot for your money at DEVCO MVS Ltd – the belt, tensioners, pulleys, using specialist tooling and our trained technicians for the whole job which takes up to 4 hours. At DEVCO MVS Ltd we have worked very hard to offer great value for money, peace of mind and reassurance for reliability and resale value of your car or van: A fixed price replacement cambelt from £195.
to book your vehicle in for the best value cambelt replacement or call 01884 254318 to speak to a Service Advisor. You can read more below and watch a short video to explain why changing your cambelt at DEVCO MVS Ltd is so important.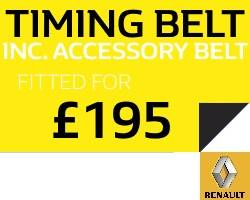 More about why you should choose DEVCO MVS Ltd to replace your cambelt:
The cambelt is made of a rubber-based polymer reinforced with fibreglass and nylon, with integral teeth on the inner edge and have different profiles depending on the engine and application. Belts are used because they are quiet, reliable and maintenance-free.
Cambelt - Your cambelt is subject to wear, just like any other moving part, however, like tyres, cambelts do wear gradually in normal use. When a belt and its teeth wear it loses its ability to grip or function properly and can slip, which puts a strain on other engine components causing them to malfunction and eventually fail. The timing of a replacement cambelt is scheduled by mileage and age – because just like tyres the rubber used in the cambelt ages over time regardless of use. Just give DEVCO MVS Ltd a call on 01884 254318 to check your cambelt replacement interval.
to book your vehicle in for the best value cambelt replacement or call 01884 254318 to speak to a Service Advisor.
L

TIMING BELTS
Timing belts can also fail prematurely because of one of the following reasons, which may require early repalcement;
Incorrect tension: the belt was incorrectly tensioned when fitted, or the tensioner locking bolt not sufficiently tightened - often a risk if the belt is replaced outside the Renault dealer network.
Contamination: the belt has become contaminated with grit, oil, coolant or other undesirable materials.
Excessive wear: one of the tensioners or the idler pulley has either seized or broken, or another component driven by the timing belt (i.e. the water pump) has seized or has excessive play.
Substandard components: the belt or associated part is substandard or faulty - often the case with non-genuine parts.
Misaligned cover: the timing belt cover has been fitted incorrectly (i.e. chafes or lets in dirt)
Ultimately, if a timing belt snaps when the engine is running, major damage can be caused to engine valves and pistons - damage that can be very expensive to put right, and may result in mechanical write off of a vehicle. If you do get away without major engine damage, timing belt failure will still leave you stranded and requiring breakdown recovery.
The best way to prevent this is to replace the cambelt at the recommended intervals. Our trained technicians at DEVCO MVS Ltd will always replace the belt and the associated components at the same time to ensure engine reliability and saving you money in the long run - providing you peace of mind about your vehicles' future reliability.
We know you have a choice when it comes to getting your car or van repaired but at DEVCO MVS Ltd, you get all of this as standard included in our fixed price repairs:
Fully trained technicians
The right specialist tooling for the job
A 12 month parts and labour guarantee
A clean, well-equipped modern workshop
A fixed price including the cambelt kit (belt, pulleys, rollers and tensioner)
Free vehicle health check
Your vehicle washed and vacuumed for return in the best possible condition
to book your vehicle in for the best value cambelt replacement with trained Renault technicians or call 01884 254318 to speak to a Service Advisor.